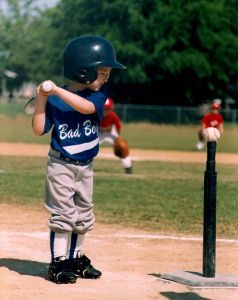 A good portion of our lifetime is spent in a season of battling back.
Whether it's from injury
from a relationship
a career
or, maybe all of the above and then some…
We wrestle with the fatigue of "breaking even" during the course of our lives.
Case-in-point, for me:
I spend a good chunk of each calendar year trying to stave off the viciousness that is diabetes (Cue up Wilfred Brimley commercials about Liberty Medical and their testing supplies, you know the ones.).
But seriously, it consumes a large part of my life. I picked it up at age 20, and so, this summer will be 10 years with Type 1, or, what is commonly known as juvenile onset diabetes.
I say consumes, because it requires a ton of working out and meal balancing. The pancreas doesn't function as it should (or, in Type 1's case, at all). So, to compensate for this lack of digestion, I try to eat less of those evil carbohydrates. (Hopefully this didn't put an image from Austin Powers in your head. But, what if I said, "Carbs are the enemy" with a Scottish accent, I'm sure the image is there now. You're welcome!)
…Tons of workouts, a reduction of carbos, and we're only getting started. Items such as fatigue, stress, and etc., all work in clever ways to reduce an already weakened immune system. So, it results in what feels like battling up an already steep hill (in life, work, play). I liken diabetes to now battling up that same steep hill, except there's a steel wagon wheel attached to my back and the hill has Tremors below the surface. (Yes, just like the ones that came after our friends Kevin Bacon, Fred Ward, and Reba McEntire in the 80s classic.)
Therefore, I wanted to share this very real life struggle with you, and say it, say all of this, to say: You aren't alone.
Life throws curve balls, sliders, change-ups, knuckle balls, and splitters at all of us.
But sometimes…not all the time…and on good days there's the occasional fastball. It comes right down the middle of the plate at a cool 92 mph, and you are able to connect and knock the laces off.
That's what I want you to read (and hear) today. Take that truth with you wherever you go.
Sure, there are a slew of other analogies I could give that might connect with you more deeply than Wilford Brimley, Reba, and baseball, but it's a start!
God can handle the awkward pitches and uncomfortable moments. Really. Truthfully.
But, just know that straight pitches are ahead as well. There are good days, and I say relish in those and enjoy them.
They (these moments of joy) make the darkness all the more bearable. When there's a strong light that you can focus on, it'll help you get through the caverns of life. So, whether you have to buy medical supplies today for a sick family member, or, you yourself are battling back from a tough start this year, just know that good times are coming.
Additionally, on a perfect health day, I relish:
Oldies music (60s motown) and good coffee (Rwandan, if you have it).
What about you? What brings up your spirits and makes a day the best it can be? Is it music, or, a great book? A hug from a dear friend?
Here's to your health and discovering God's love, as you battle back into the count. I pray you have a perfect pitch somewhere along today. And when you do, swing with all your might.