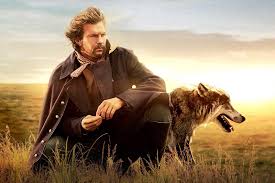 Well, standing 500 feet away from him, I should say.
But who cares? We were in the SAME auditorium for a concert. His concert.
Did you know Kevin Costner even played music?
I didn't either, but Leah said we had 2 tickets (to paradise) & a Kevin Costner concert – compliments of her workplace.
So, I did what any red-blooded, Tin Cup/Bull Durham/Waterworld/Dances with Wolves/Field of Dreams/The Untouchables/Robin Hood-watching guy would do: turned to Spotify for help.
I found Costner and his band Modern West. Of course, I dug the moniker. Kevin Costner was a living, breathing Western to me. Always had been. His name (like Eastwood's) is synonymous with awesome. He's Joe Cool. Pre-Camel cigarettes cool.
We got gussied up. My wife, me, and two friends. Saturday came, and we went to see Costner perform.
It was a black tie event. Naturally I wore a blue one. Kevin Costner wore boots, I think.
While I didn't recognize his music, (none of the songs were household tunes) they weren't half bad. Costner requested the reverb be cut waaaay down and the spotlight to be cut completely off him. And, he sang like a bird and eventually closed the set down with Dylan's Tambourine Man.
All in all it was a delightful time. Even though Costner never came over to our table and signed anything, I'd like to think he would've if asked. There were baseballs stationed on each table, and I wanted mine signed by Billy Chapel pretty bad. Similarly, none of us on the back row received a Costner wink, but we still felt included in Modern West's concert.
If you have the time, check out Costner when he's not on the big screen. He's Joe Cool, people. Here are some upcoming dates:
Tour