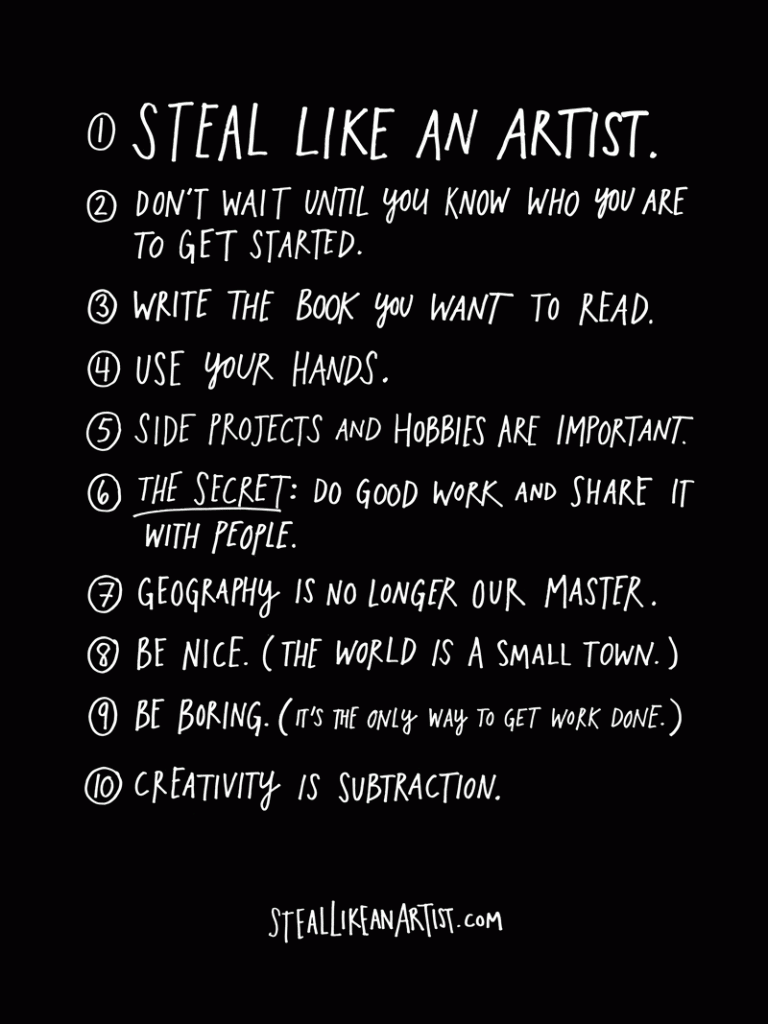 This was an interesting read for me when I really needed it (about 1 year ago).
I highly recommend it for a multitude of reasons:
1.) desire to be more creative 2.) desire to share ideas with others 3.) interest in drawing better doodles 4.) simplifying your schedule
Austin Kleon brings a whole new approach to business and the impact of sharing information.
He details it in a clear, very visual approach. And it really works!
He delves into the controversial topic that no idea is uniquely original, and we all 'steal' from our predecessors. He even thanks them in his acknowledgments section.
If you're looking for a good place to see how he presented this to a collegiate audience, check out his message at: http://uajourn.pbworks.com/f/How+To+Steal+Like+An+Artist+(And+9+Other+Things+Nobody+Told+Me)+-+Austin+Kleon.pdf
This is information I'd have loved to hear in my collegiate years. It is all helpful (even beyond the creative process).
And what's best of all?
He practices what he preaches. In reference to #6 on his list – The Secret: Do good work and share it with people – he practices what he preaches and does just that by making all these things available online – www.steallikeanartist.com.
I hope you enjoy it, too.