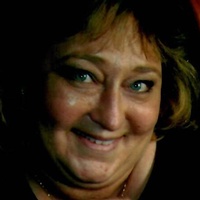 I distinctly remember Dad telling me he'd met someone in the fall of '92. Fresh from the battlefield of divorce, I was skeptical of anything good ever happening again to a seven-year-old.
She lived an hour north of us in a community called Eubank.
I felt the strain of my boat coming unmoored from its place at the dock.
I asked why he wanted to remarry. Weren't my sister and I enough?
He told me I'd like her, and I agreed to be civil that first meeting.
They went on 2 dates in December and were married by mid-month.
I wasn't happy, but I could tell Dad was.
Sherry introduced me and my sister to her daughter. We stared at one another across the small living room like detainees awaiting interrogation.
But it didn't remain that way for long.
Sherry brought out a tantalizing tray of Rice Krispy Treats, and I was weakened – much quicker, I might add, than my sister.
My footing felt uncertain on the steps of this new threshold.
She wanted me to enjoy them. Dad had told her how much I loved the marshmallow-y sweets.
I smiled and reluctantly took candy from a stranger.
But little did I know that I was meeting someone who'd blossom into a fixture in my life for the next 27 years.
Today.
Sherry's best friend, Becky, stands at the front of Morris & Hislope Funeral Home and relays all the kinds gestures she's been shown over the years.
Sherry is described as an angel. Someone capable of letting anyone close, just with her eyes.
She is a rock for countless souls descending to pay their final respects.
A Garth Brooks song is playing – The Dance, one Dad and her first danced to at their wedding.
He tells me its the song he heard playing when he left the hospital just one week ago.
Sherry's pictures are featured on poster boards, and her eyes are penetrating even still across the parlor.
Her smile is fixed in each Polaroid like a singer about to sing a song everyone has come to hear.
Dad's brother is providing the eulogy and red roses rest atop the casket.
It's a color scheme Sherry would've wanted, Dad said earlier.
The funeral is tomorrow, and while Sherry will be laid to rest with her parents, her brother, even her son, Jason, she will be emblazoned on the hearts of all who can still hear her laugh.
She now sings on that high mountain and her work down here is done.