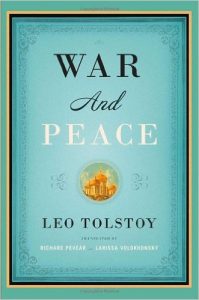 Sorry for the lapse, dear reader. A lot has happened on BrianLTucker.com since Thanksgiving and a lot more to come in 2016!
I've worked through some BIG items on my upcoming novel. Here are just a few:
New book title (no longer, The Silence of Sacrifice)
Shaved 35k words from the original manuscript (from 100k to 65k)
BrianLTucker.com experienced 3 hacker attempts
Book submitted for

Final Proof

online today

Cover Design

for book is underway

Market launch date

for book currently listed as 2/2/16, print date to follow
Advanced

R

eader Copies will be going out in the coming weeks to those chosen few!!
I'd like to add to this list:
I'm currently reading War & Peace by Leo Tolstoy (often considered the greatest fictional work of all-time) **I'm still beholden to Moby Dick as the greatest** But, I'll try to submit a full review later
As it currently stands, I couldn't help but label today's blog "War & Peace …Eternity" because these hackers' attempts to sabotage our site helped me realize there's a lot more in life than just "War" and "Peace".


There's "Eternity" too.

Everyday there's a struggle between good and evil. And it coalesces into what constitutes life and eventually what comes next. Eternity -eternal- everlasting. So, while there's warring parties of people pursuing evil and/or good. And there are those wanting to see the demise of Christians worldwide. There's still that small voice begging each of us to choose eternity with the one worthy of everything. May your December (and mine) be Eternity-centered.
Truth marches on…