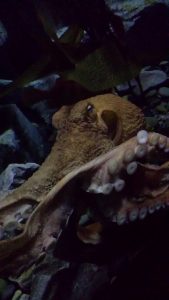 Dear Mr/Ms. Octopus roaming inside the tank at the Chattanooga Aquarium:
I imagine you enjoy your time inside the tank. What with all the visitors and pictures and popularity. When we spotted you, I had to take one too. I turned the flash off, because the sign said it could disturb you and I didn't want to do that. My wife and friend pointed out the toys that you had in the tank with you. We didn't know you had such an affinity for games. Have you played Marco Polo before? It's great.
I apologize in advance if you overheard about someone bothering the sturgeons. The sign stating "Only touch them with 2 fingers" wasn't clearly visible. And no…I did not pick one up out of the water. That is all apart of the rumor mill. The sturgeon didn't seem to mind anyways.
So…is the water cold? That's what I really wanted to ask you. With it snowing and sleeting and making Tennessee like a large igloo, I wanted to know if the tank was likewise. Do you know it's winter here?
If you were roaming the seas would you note the change in the ocean's temperature from season-to-season?
Sure you would. You're an octopus. You know things.
I'm sorry about the sturgeon. The openness of the tank makes it too easy to bother them. I'll know next time what not to do.
Have a nice day in the water. I'll be in the snow.
-Man-