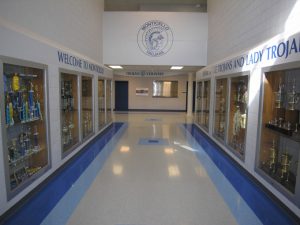 I LOVE Independent Schools.
From attending one in my K-12 experience to recruiting at them in E. Kentucky 2009-2013, I love everything about them.
Do they have their shortcomings? Yes. They are not perfect.
But, where else can teachers and students co-exist as members of the same community to the same degree that an independent school permits them?
In Kentucky, the ones I've had the pleasure to visit had school boards closely connected to students. (The elementary-aged kids knew the high schoolers and vice versa.)
Does this make larger schools evil…no way! But, the "closely-knit community feel" is often lacking in such mega-sized environments.
I remember my college recruitment visits fondly (or, most of them anyways). And, I remember the attentiveness and the inside jokes that classmates shared at schools like Corbin, Somerset, and Pikeville. The meetings held in the media center at Hazard Independent. Prestonsburg, Barbourville, June Buchanan and Jackson Independent all working around my schedule and last-minute alterations. It was a pleasure!
The people are SUPPORTIVE. The students (despite the lack of funding and resources) are resourceful and motivated, too. The sports teams are heartfelt and united. (The small team sizes always sent Independent schools into the Class A (or, 1A) division.)
Today, I found this image on the KHSAA website regarding all-time wins for boy's basketball programs and had to share:
ALL-TIME WINS (MIN. 1,000)
# School, Years (Won/Lost); 2013-14 Record
1,918 Ashland Blazer, 1921- (1,918-825-1); 22-10
1,854 Paducah Tilghman, 1911- (1,854-770); 15-13
1,578 Central City, 1926-90 (1,578-556); n/a
1,417 Paintsville, 1921- (1,417-1,072-2); 10-14
1,342 Newport Central Catholic, 1943- (1,342-698); 29-4
1,330 Wayne County, 1942- (1,330-803); 31-2
1,308 Lafayette, 1939- (1,308-718); 18-11
1,276 Monticello, 1911-13 (1,276-1,125); n/a
1,256 Paris, 1928- (1,256-1,097); 13-16
1,190 Mason County, 1960- (1,190-465); 21-
Seeing my alma mater's name gave me a great bit of nostalgia. Yes. It's been integrated into the school shown 2 rankings above it, and the 1911-2013 notation is painful to see, but I know the experiences that came from this place were once in a lifetime. For me, the staff and support at my Independent experience were second-to-none.
Larger schools are wonderful in their own rights as well. (Please hear me say that.) But, the uniqueness of a smaller school, smaller class sizes, and attention-to-detail made it a blessing. I reflect on MIS and remember the amazing people that made it a welcoming place.
To other alum and WCHS staff, thank you for welcoming this small community into yours since 2013. May the new friendships and memories keep forming.
To other schools that have closed their doors in recent years like Monticello, remember the people and the place and the time that was truly unique.