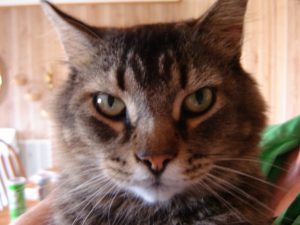 (Kujo, circa 2004)
It's difficult to lose a pet.
I got that call yesterday.
When you experience it, it's difficult to respond.
How do you respond without feeling foolish?
It was a pet. An animal.
I'm working through it, but I know it's been even harder to lose one that had such personality.
With me throughout middle & high school, college & graduate school, work & marriage and until yesterday.
The memories of returning from trips and seeing a Maine Coon saunter out to greet us in the driveway. The van still ticking and hot to the touch from miles upon miles on I-75.
Kujo. Such an ill-suited, ironic name for so lovable a cat. But, I laugh thinking about the day my sister named him. Stephen King would be proud.
Mom called last night to confirm that he'd been sick for a while. She took him to the vet. Kidney failure & a host of other problems. The knowledge of him being sick as heavy as the absence of him on the back porch today, I'm sure.
Mom said she buried him where the plum tree once stood. He'd like that, I know. Always one to follow her out to the garden and watch her weed & water the squash and peppers. A country cat. Indoor / outdoor. Super smart and always aware of when tuna cans were being opened.
I'm happy he's at rest. As I'm sure you've felt the same about pets and friends and family.
My heart goes out to those who've lost loved ones. (Pets or not.) It's amazing the memories they can provide. How pets can bring warring parties together. If you told me a Maine Coon could've helped deter arguments fifteen years ago, I would've laughed. But now I know, even pets, can be agents for good.
Take this sappy entry today and use it, if you'd like. I hope it brings you closure to issues you might be wrestling with this year. God wants us all to live fully, freely, and passionately. All of us. Even pets and animals like the ones Lewis wrote about in The Chronicles of Narnia. They too serve a purpose. Even if it's to be a daily reminder that it's okay to let our guard down. It's okay to love and be loved.