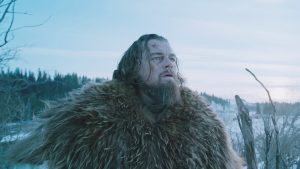 I watched the Revenant recently.
Revenant – someone who returns after a long absence (believed to be dead).
Fitting title for the film, but there is so much beyond this single description in its 2hr 36min. run time.
It's a brutal, harrowing tale of a man trying to survive. It's a chain of events. His fortune seems to go from bad-to worse-to despair, and I was reminded of all kinds of biblical heroes who encountered just such odds in Old Testament events – especially Job.
I know. It's not even remotely accurate to compare DiCaprio's role in a film to a man of God, but this one stuck with me as I read today' devotional about blessings.
Would you agree that for a follower of God one of the hardest principles is being blessed and not straying from God after the blessing has occurred?
Like being in the woods with a compass and suddenly throwing the compass away once we see something familiar. It's a similar self-reliance in our spiritual walk.
While God says, "Look to me and be saved…" (Isaiah 45:22), our inclination is to turn tail and run for what we believe to be higher ground.
Much like DiCaprio's character in Revenant, we travel through life's seasons getting beat down on more than one occasion, and these scars can wound us beyond repair if we allow them to. But, opposite to the physical fight of man's battle with nature, the spiritual requires us to simply stop tugging on our own.
To admit, God is more than capable of handling your, mine, and our issues, if we let him.