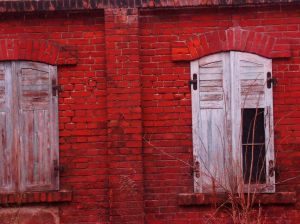 3 saints are all argued to have played a part in the formation of this national day of pink. According to the Catholic Encyclopedia, one was a priest in Rome, the second one was a bishop of Interamna (now Terni, Italy) and the third was a martyr in the Roman province of Africa.
Whether St. Valentine (Valentinus) was in love with his jailer's daughter or not (and left a note that really said, "From your Valentine" before being beheaded) really isn't the main draw for this holiday. Is it?
We can try to reduce it to sugar, flowers, etc., but there seems to be more here. Although, Hallmark does love the confusion…and pressure that men face in delivering on it.
But at the end of the day there's this very real need for connection.
I mean, today, I saw hundreds of people walking the streets in downtown Chattanooga holding hands, trying to hold hands, and Dudley Do-Rights taking kids to aquariums and things. It was beautiful and unsettling all at once.
We as humans genuinely crave to be loved. This one day just seems to showcase how great that need is. We don't want to be left alone. Especially on 2/14. Like musical chairs, we hear the music playing and if it does stop, we don't want to be without a seat.
So. I took note of the couples that seemed genuinely happy. The ones not trying to hold hands out of obligation or FORCING it. There was one couple that genuinely enjoyed the aquarium it seemed. They didn't corral one another to take pictures at every exhibit and even seemed to relish in the butterfly garden.
It made me appreciate Saturday (and time with my friends) even more. Valentine's Day or not–it was pleasant. Seeing that couple just absorb the sights and sounds of a weekend and take delight in being together was refreshing. It helped me to look at my own family's joy and realize we need 2/14 more than just today.
Additional note: Keebler elves now apparently make Red Velvet fudge-striped cookies as well.
–Brian