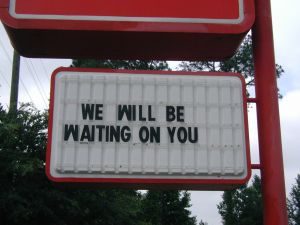 There's a 90s country song by the band Sawyer Brown that sums up my goal today. The lyrics go like this: "I thank the bank for the money. And, thank God for you."
If you've ever appreciated someone for something they've done for you in this life, now is as good of a time as any to let them know.
So, here goes my list (and there will be omissions, my apologies up front):
For my entire life, soul, purpose: God
For being a true light in a dark world to me and to countless others: Leah
For showing godly love each and every day she breathes: Fay
For my humor: Johnnie
For a strong spirit: Brandie
For teaching me to laugh, no matter what: Sherry
For teaching me to be strong and presentable: David
For showing me determination: Jamie
For teaching me to endure (often whilst mowing the yard): Jared
For being an artist in so many ways, levels: Leah D.
For showing a strong will, kind heart: Brittany Sexton
For teaching me that not all Clevelanders are rude: Al
For opening her home to guests, amazing cooking and board- game skills: Linda
For showing great teacher-to-be skills and being a great witness: Lydia
For commitment to any task, being a best friend: Hopper
For whimsy, being unpredictable, and accident-prone (you made me laugh more than you knew at home): JT
For zany, slap-stick humor, and being the female portion of our best friends quintet: Dani
For tact, example, and leadership, and appreciation for 80s hair metal: Patrick
For being great friends and wives/husband to my best friends: Dana Silvers, Sarah Hopper, and Vince Frantz
For kindness shown to total strangers who become additional family members: Jo Carol, Joey, Tim, Jane, Diana, Dennis
For riding roller coasters even after back surgery, taking me to the skating rink, and sharing oldies music at the pool each summer: Kay
For love of language, life, creativity, travels, and annoying high schoolers as unpredictable as the Little Debbie snacks served at MHS each morning: Paul
For showing HEART, baring soul, and teaching the heck out of a history lesson each day: Jimmy
For devotion to science, and to people, and a cause: Chaplin
For showing family connectedness: DeeDee, Darci, Jane, Ludelle
For writer inspiration, appreciating the lesser seen beauty in things: Lindsey Frantz, Rebecca DeSensi Sivori
For passion in literature (in and outside the classroom): Eliot, Young, Bob, Derek, Nancy, Julie, Amanda, and MFA peeps
For boldness to step out on faith and be yourself (different is okay and non-traditional): Mark Love, Scott Pollard
For studiousness (and mentoring 3 high school dudes when the Bible was often the furthest thing from our minds each morning at the greasy spoon): Jeremiah Goley

For mission-mindedness, going to Russia when God asks, and serving, serving, serving: Coy Webb
For community love, accepting 2 strangers into his community church in E. NC in 2013, and scholarship, and writing a book I want to read someday when it's published: David Schmaltz
For healing people, and being a counselor, and college roommate unlike any other: Thomas Carter
For inclusion at a new place and making me a part of the team: UT-Chattanooga- Stacie, Laura, Elizabeth, Kayla, Deardra, Lisa-Michelle, Sevan, Michelle, Angela
For acceptance into a new community of faith, in a new town: Journey Church
For my spiritual growth and development and paying my way to serve in Brazil in 2003: First Baptist Church (and the anonymous friends and their support)
For teaching me about subject matter on the past and present and life, in general: MHS teachers, staff, UK faculty, EKU
For consistency and always being there (and being the same): my grandparents, relatives, and old, dear friends in Monticello, Lexington, KY, NC, TN, and across the world
For those I haven't met: May our paths cross soon.