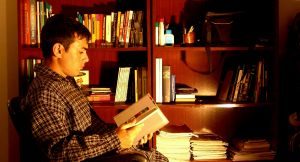 Met a guy at a conference recently.
Very nice gentleman.
Even offered to help me find some writing accountability.
In our conversation, we discussed all kinds of writerly things including print (and ebook) options.
At the end of the conversation, he gave me his contact information, and I offered my card.
(Of course, I had to cross out old email addresses/blog sites/etc., because I'm so bad with technology that I can't quite keep up, it seems.)
He was patient, and when I offered to give him a copy of a book, he politely, and it was the nicest rejection I'd ever received, said, "Ebooks only, for me."
I quit searching for the PAPER copy in my backpack.
Brought my hand out of the backpack and shook his. Muttered something like, "Just ebooks?"
He smiled and nodded. Informed me that it was keeping him clutter free, and his wife was appreciative.
Ebooks are all the rage, it seems.
Now, don't get me wrong. I LOVE paper copies. The smell. Being able to hold them outside. Take them camping and not having to worry about an electric outlet or battery life. But…
his smile revealed something new to me.
He was enjoying a life less cluttered.
And…maybe that's what it's all about these days of "Run and gun" style of living.
There's little time to breathe.
—
My wife and I just moved apartments this weekend. We are getting settled and the endless copies of books are invading our space AGAIN. Maybe I'll take his advice to a certain degree (keep some of the paper). But, I agree with his attitude. He was freeing up a lot of space and still reading what he wanted/when he wanted.
Shameless plug: (Final Day of my ebook being FREE is today: http://www.amazon.com/BAPTISMS-DOGS-Stories-B-Tucker-ebook/dp/B00LAFKRBQ/ref=sr_1_1_twi_1_kin?s=books&ie=UTF8&qid=1426443237&sr=1-1&keywords=baptisms+%26+dogs) I'm grateful to the many people that have taken a risk and read this book. I know it's different to what you usually might pick up at a store. Plus, they're short stories. But, thank you so much for being there for this first effort. It's done better than I could've ever imagined.
Like my ebook, maybe I will continue to seek out copies on Kindle. But, let me tell you it has been so difficult to part with the REAL thing. (It's difficult to take a dog-eared copy of a Kindle ebook into a pool where cannonballs are being offered by small children, without losing the entire device to H20. But I will try and try again.)