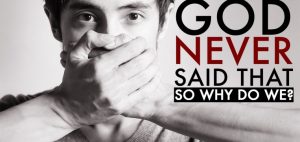 My church's most recent series covered the topic of–
"When we place words in God's mouth…"
Pretty scary concept, huh?
Our pastor, Mark Love, went on to point out that we are "all in danger of letting our ability to reason overshadow God's wisdom."
Unnerved yet?
The topic of true wisdom is just getting started.
===============
1 Corinthians 1:25 (ESV) states, "For the foolishness of God is wiser than men, and the weakness of God is stronger than men."
Then, Mark asked a question I've wondered a million times and tried to force myself into an answer that is contrary to scripture: "Does God want us to be happy?" He states it better than I can, in our church's blog.
===============
I mean, our forefathers wrote this (below) into our country's beginning so it has to be true right? Our end goal = our happiness?
"We hold these truths to be self-evident, that all men are created equal, that they are endowed by their Creator with certain unalienable Rights, that among these are Life, Liberty and the pursuit of Happiness."
But truthfully…what if it looked more like this?
===============
–> God doesn't just want you to be happy, he wants much more for you.
Mayo Clinic's Study on Happiness (It took a Mayo Clinic to tell us this?)
===============
1. To be focused on the right things, the right thoughts. 2. To be resilient to life's curve balls – creating healthy boundaries. 3. Biggest hindrance to happiness – Thinking too much about yourself. (NO WAY!! Not in our country, right? How could that be possible? The land of Instagram.) 4. Happiness is a decision.
Bigger question: Why does the pursuit of happiness fail every time? (#3 in study above)
===============
[We believe that if it makes us happy, it must be good. If it makes us unhappy, it must be bad. If something doesn't make us feel good, it must not be what God wants.]
What if? (Bear with the notes here…)
What if the enemy is at work in the world (our day-to-day lives) tarnishing our ideas of what happiness is?
(BINGO! At no point in history has the notion of happiness-as-a-right dictated the citizen like it does in 2015.)
But truthfully, God doesn't want us happy when…1.) it is due to something that is unhealthy, unwise, or wrong in His eyes, 2.) it is only based on what the world has to offer instead of what He created us for.
In essence, we are worshiping the creature instead of Creator.
===============
Romans 1:22-25 (ESV) sums up this predicament from erroneous human behavior prior to our 2015 pitfalls.
—————
"Claiming to be wise, they became fools,
and exchanged the glory of the immortal God for images resembling mortal man and birds and animals and creeping things.
Therefore God gave them up in the lusts of their hearts to impurity, to the dishonoring of their bodies among themselves,
because they exchanged the truth about God for a lie and worshiped and served the creature rather than the Creator, who is blessed forever! Amen."
Don't love the things of this world. (This one is tough for me.)
===============
1 John 2:15-17 (ESV)
—————
"Do not love the world or the things in the world. If anyone loves the world, the love of the Father is not in him.
For all that is in the world—the desires of the flesh and the desires of the eyes and pride of life—is not from the Father but is from the world.
And the world is passing away along with its desires, but whoever does the will of God abides forever."
Synopsis: The Godly are Happy.
===============
Psalms 97:12 (NLT)
—————
May all who are godly rejoice in the lord and praise his holy name!
God wants you to be blessed.
===============
blessed: makarios (mak-ar'-ee-os); supremely blessed, more than happy.
Blessed… (9 examples from Jesus himself)
===============
Matthew 5:2-12 (ESV)
—————
And he opened his mouth and taught them, saying:
"Blessed are the poor in spirit, for theirs is the kingdom of heaven.
"Blessed are those who mourn, for they shall be comforted.
"Blessed are the meek, for they shall inherit the earth.
"Blessed are those who hunger and thirst for righteousness, for they shall be satisfied.
"Blessed are the merciful, for they shall receive mercy.
"Blessed are the pure in heart, for they shall see God.
"Blessed are the peacemakers, for they shall be called sons of God.
"Blessed are those who are persecuted for righteousness' sake, for theirs is the kingdom of heaven.
"Blessed are you when others revile you and persecute you and utter all kinds of evil against you falsely on my account.
Rejoice and be glad, for your reward is great in heaven, for so they persecuted the prophets who were before you.
===============
And quite possibly the most difficult to adhere to but the most all-encompassing…
James 1:2-4 (ESV)
—————
Count it all joy, my brothers, when you meet trials of various kinds,
for you know that the testing of your faith produces steadfastness.
And let steadfastness have its full effect, that you may be perfect and complete, lacking in nothing.
Max Lucado said…
===============
You weren't made for earth. Moments of happiness and joy cannot compare to what's ahead. Lower your expectations of earth. Not heaven. No new car, new wife, new baby, new boat will give you the joy your heart craves.
Put simply, again, The Godly are Happy. They don't need to be manipulated or goaded by Instagram (sorry for the app-bashing). 🙂
===============
Psalm 97:12 (ESV)
—————
Rejoice in the Lord, O you righteous, and give thanks to his holy name!
Enjoy Wednesday and Thank God for the wisdom and peace this offers!