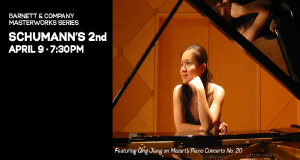 Discovered something last night…
I dig Mozart.
More specifically Mozart's Piano Concerto no. 20 performed by Qian Jiang.
I didn't realize this until hearing (and seeing) it performed live last night by the Chattanooga Symphony and Qian.
Sure I appreciated Mozart before this. He's one of my "fab 5" for classical music (Bach, Beethoven, Chopin, Tchaikovsky, and Mozart). But, this performance took it a step further.
I admired the blending of light and dark musical notes. The pianist, Jiang, took it to another level. A fun video of her below:
Have you listened to symphony and seen a performer just skyrocket? Pianists play from memory. That's right! No sheet music. No time for it, I guess.
Qian Jiang, of course, has played all over the world. But, my wife and I noticed how accomplishments (and accolades) went out the window when she sat down on the bench to play. She treated it like the first performance of her life. EPIC.
It was a performance like none I'd ever seen. What's your favorite performance (band, concert, venue) of all-time?