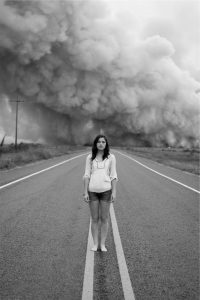 My wife and I had a scare recently, when our neighbor battled through a series of seizures outside our apartment door.
I was just getting out of bed, getting dressed for church, when we heard the shouts from our hallway.
The piercing screams of "My baby…my baby!" filled our disoriented ears.
Leah dialed emergency. I ran into our neighbor's apartment, unsure of what I might find.
And, I prayed it wouldn't be a Stephen King scenario. Even though that's where my warped mind went.
I found the child. He was fine. But, adrenaline prompted me to scoop him up–deliver him safely to my wife's hands.
Meanwhile our neighbor alerted us that she couldn't see. She felt blind. I looked closer and she didn't make eye contact. We tried to ask what hurt. Where was the pain. She indicated the throat and head. Then, the seizures set in, and 9-1-1 asked if she had a history of things. At one point, she stopped breathing altogether, and I really freaked.
I do wish I'd taken better stock. I realized how helpless I really was in that moment. The EMS arrived and she followed their promptings to lie on her back and provide phone numbers of loved ones. Afterwards, I had realized she even responded to my questions with slight taps on the concrete earlier.
All of it struck a chord in me of the importance of knowing one's neighbor. Not just for the emergency moments. (Albeit that is helpful.) But, to know them because I'm supposed to. It's why I'm living, breathing, moving. Otherwise, I'm just a clanging cymbal. A robot without a heart.