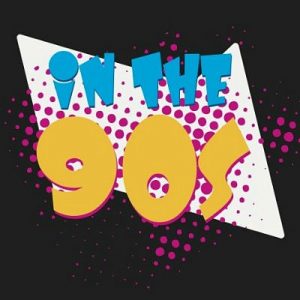 I'm a 90s child. Don't really fit with GenX and don't quite enjoy the label of Millennial like a lot of my peers. But…I do embrace the pop culture of the 90s and all of its wonderful slices of nostalgia. I'm going to list some of this awesomeness below, and I'd love it if you could join me in a.) reminiscing, b.) realizing what an oddball 90s kids really were, or, c.) embracing a childhood you might've never had but now wish you did, as a result of this terrific era.
Here we go! (rolling shirt sleeves back)
You are a 90s kiddo if you–
Watched: Boy Meets World on TV every Friday on ABC (TGIF)
Walked: with a cassette Walkman strapped to your belt loop (my cassette of choice was The Rembrandt's LP (yes, the band that did the Friends theme song))
Ate: at Pizza Hut for parties, played arcade games, and garnered Land Before Time puppets while devouring The Bigfoot pizza
Read: books because BookIt existed and the prize for reading a lot of books was a free personal pan pizza from Pizza Hut each and every week….EVERY week (see above)
Traveled: with a Game Boy that only offered games in black-n-white colors and only lasted until the Duracells ran out
Sang: the theme song of Reading Rainbow even when there wasn't a TV anywhere around (didn't matter) Where is Levar Burton these days?
Believed: "The truth was (really) out there" thanks to Mulder and Scully
Still turn your head: when you hear ducks quacking and think of Coach Gordon Bombay…Emilio!
Don't: ever want to see a Ring Pop ever again!
Are OK: with "living in a van down by the river"
Paint: with the voice of Bob Ross echoing inside your head
Look: for the Daily Double no matter what board games you might be playing
Still look for: Slime Time as a portion of Nickelodeon's broadcasting efforts
Legitimately: miss birthday cakes and cookies (the shortbread ones) from McDonald's earlier years
Perform: all of the Robin Williams voice overs in Aladdin
Saw: Home Alone 1 in a theater and dreamed of coordinating your own attacks against The Wet Bandits
Memorized: Coolio's "Gangsta's Paradise" just in case it was requested at a rap-off
Wanted: Parachute pants but…never bought parachute pants
Remember: who Sisqo was. what song Sisqo sang.
Had: striking resemblances to Michael Bolton and Billy Ray Cyrus in 3rd – 5th grade. "Don't touch the hair!"
Know: what Napster is. Was.
Recognize the name: Picabo Street
Still say: "Bo knows"
Took vitamins: to be like the Flintstones
Wore: pants backwards like Kriss Cross
Owned: a fisherman's hat, not for fishing, but to be legitimate
Favored: R.L. Stine over anything else in the library
Hated: the sound of dial-up Internet but knew it would work most of the time
Screened: phone calls on the 'home' phone thanks to No Doubt
Drank Gatorade: like Mike
Drank Surge: because you weren't supposed to (P.S. it's back!!)
Heard the words: "Finish him" even in your sleep
Owned: Walkie Talkies to converse in the yard with your buddies
And last, and certainly not least–
Witnessed: Crystal Pepsi and the end of the 90s
If you want, you can join us if you don't have this terrific decade to call home. If this scares you at all, I recommend sticking with the memories that were made for you elsewhere.
Regardless, we 90s folk know that it was a beautiful marker in this fine country's history. If only we could latch onto more wonderful (excluding Crystal Pepsi) ideas in the future, we know the next generation will be in good hands as well.
Take some time and reflect on a decade that still feels like it encapsulated so much more than just 10 years. Add some shows on Netflix and relive the awkwardness. I still can't believe I had as many Super Soakers and Nerf guns as I did.
Wonderful!