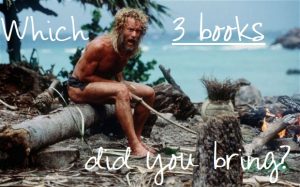 Much like Castaway and Tom Hanks' obsession with Wilson, there are things we can honestly say we don't think we could live without.
My best friend is a music director, and he asks his students (each year) if they could only take three albums on their iPod to an isolated island – what would they be? Then, what would they do once the charge to the iPod runs out? Interesting discussion ensues…
Luckily for those paperbacks, they don't require a charge and their only fault is not being waterproof. So, if you had to only pick 3, which books (all-time) matter the most to you?
Re-readable qualities…Characters you can't live without…Narration that soars and exposition that is just right.
What are those 3?