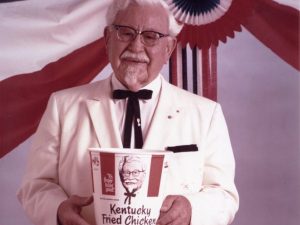 Because I can't make this stuff up. I'll just include the link to verify it (and you can thank me later).
Yes. YUM brands powerhouse, KFC, has introduced "extra crispy" fried chicken-scented, SPF 30 sunscreen.
You heard that right. Sunscreen that smells like chicken.
Did I already try to register as one of the first 3,000 recipients of a FREE container from The Colonel?
Yes.
Were they looooong gone?
Oh yeah.
But there's always next…wait a minute.
When did retailers start promoting across such odd boundaries?
Was Kentucky Fried Chicken the first to do it?
Does anyone remember the Flavor Radio tactic by Dunkin Donuts in South Korea a few years back? Issuing a commercial jingle which prompted the release of coffee scents into the bus space air and driving store visits up 16% where the "smell-technology" was being implemented.
I laugh, but it's true. Smell-technology.
Any others?
I know smell is considered the strongest sense tied to memories, even from our childhoods we can attest to it.
Do you remember Mr. Sketch scented markers?
I can still remember the powerful, potent aroma of lemon and orange flavors blending together. Our teachers encouraging us to not sniff too much for fear of brain damage, addiction, or worse, ending up like this guy.
If senses are tied to memories, why doesn't every company try these peculiar tactics? Maybe they do, and we just haven't noticed them. Marketing is sneaky.
But, one things for certain: the odder the idea the more likely it seems to stick with us.
Remember Snapple's "Real Facts"?
Where we learned that jellyfish are 95% water and Maine has 62 lighthouses.
While we didn't need to know this, the company provided it to us anyway free-of-charge. And these obscure little tidbits gave us conversational pieces all throughout the 90s and beyond. (I'm still talking about them.)
Again, oddity rules the day.
If you see some advertising brilliance on your commute today, be sure to share it. I'll post it on here. BTW: Chicken-scented sunscreen will be a hard one to top.
Ps. Here's a picture of Leah and me dressed up as the Colonel (and a bucket of beautiful chicken) from last Halloween: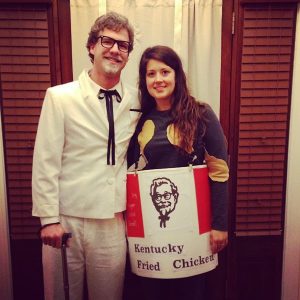 (Marketing so strong, the Colonel got us to dress up and go bowling like this.)
Fun times! Anyways, enough of this. I'm getting hungry.