One Shining Moment(s), 2015.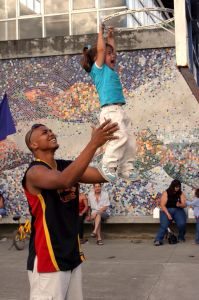 The song, One Shining Moment, written by David Barrett and performed later by Luther Vandross has become synonymous with college hoops. (CBS airs it every year during March Madness.) It's what a lot of people assimilate with the Underdog stories of the tournament. They are always special.
I have to ask: Did you catch any of the start of March Madness last weekend?
I hope you did. It's been quite spectacular since Thursday.
If not, that's okay. There's still the Sweet 16, Elite 8, Final 4, and Championship in Indy before us.
(Please don't let my basketball excitement scare you away from my posts. I promise to venture back into other subject matter…soon.)
There's just something so contagious about filling out the brackets each year, seeing underdogs pull off upsets ('Thank yous' go out to yesterday's upsets…you know who you are), and witnessing the passion with which these young players play with, knowing each game could be their last.
The example I give of a 'shining moment' was one you might've seen over the weekend. (If not, don't let me spoil it for you.)
**SPOILER ALERT**
There was a small, unknown team by the name of Georgia State given a 14-seed and expected to play the 3-seed, Baylor, in their region's initial round. (Before this, the head coach (and also the father of the team's star guard, had torn his Achilles tendon during the celebration of winning a previous conference leading up to the NCAA tournament.)
Coach Ron Hunter, and his son, R.J., made magic in the initial round of March Madness by knocking off the favored Baylor, with a last-second, deep 3-pointer by R.J. The crowd erupted, the upset was made, and Coach Hunter, who was stationed on a swivel chair, applauded and leaped/fell from it to the court. With the torn Achilles (and cast) already, and the fall, there was lots of concern for the coach's well-being, but he admitted it was excitement, he was okay.
Hunter and his son celebrated the victory and put a team on the map…literally. Fast forward to the next round, and there was a close effort against Xavier, but Georgia State fell to them. The Cinderella experience ended. But, we discovered it was about so much more. As the press interviewed Hunter, R.J. and the other Georgia State players, we saw it wasn't about their loss or shortcomings at all. It was a season to celebrate the memories made along the way. The people around the game!
Coach Hunter's response is best seen (rather than told) as he reacts to the year, his team, and his son: http://ow.ly/KG0TF
It's EPIC for all the right reasons.
These things are what make the round of 68 (formerly, 64) so great. Now, we wait for Thursday's match-ups of more evenly matched teams. But, we won't forget the magic of the initial rounds.
They TOO are what make March special.