Jim Burgen's, No More Dragons, from Thomas Nelson Books.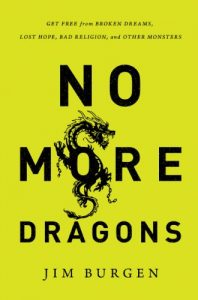 (on shedding decades of gnarly scales)
His sermons (while at Southland Christian Church in Kentucky) were instrumental during my college years, and this book has taken it a step further with messaging that centers upon curing a hardened heart.
Jim challenges the reader saying: becoming a dragon is a dangerously sneaky process.
He uses the C.S. Lewis novel, The Voyage of the Dawn Treader, as a fitting example of a boy becoming a dragon unawares. The boy finds treasure, falls asleep on it, dreams, and awakens as a dragon concerned for his treasure hoard. Upon awakening, he discovers he cannot remove his dragon scales without the help of Aslan the lion, protector of Narnia.
Once the scales have been cleansed from his back, Eustace's friend says, "You have been – well, un-dragoned."
This is a status most of us (if we're honest) would like to reach at some point in life: un-dragoned.
Have you ever felt this freedom?
Free of the past. Hopeful for the future. Very much alive in the present.  When we can look in the mirror and not see a monster staring back, is a good day.
What will get us there?

Is there a moment when you can assuredly say you've arrived?